SMART ROADBLOCK 
Temporary traffic light for partial road closure
Smart and simple
Smart roadblock 
The temporary traffic light is used to control road closures and roadworks. 
The device contains an ARM processor, which speeds up the execution instruction processes and providing modern, safe, easy-to-program and easy-to-use traffic management device.
The complete system can handle 4 traffic signals at once, allowing 4 traffic directions to be served simultaneously. The signals are in radio contact with each other, with a maximum transmission distance of several kilometres.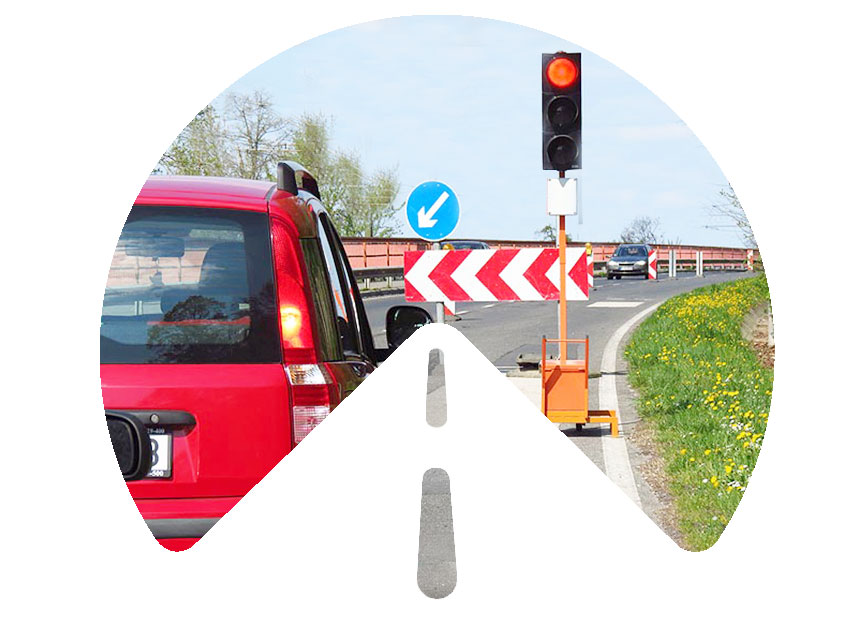 Remote access
The equipment can be connected to a remote monitoring system, which can be used for checking the operating parameters, battery status, etc. The remote monitoring system transmits any malfunction automatically to the appropriate personnel (e.g., battery dive, LED insert failure, damage detection). The data connection can be implemented via today's most modern communication channels (e.g., LoRaWAN, NB-IoT, GSM).
Dynamically changing traffic periods can be automatically adjusted by radar control
All signals can be equipped with so-called Doppler radar, which can be used to provide possible green times. In this way, dynamically changing traffic periods can be bypassed, without the need for manual control by operating personnel.
Adjustable LED indication until turning from green to red
The sign is made with a unique LED display. The red and green signals operate on the conventional principle, with an optional countdown signal in the centre of the yellow signal to display the green and red time. This mode can be disabled.
The main characteristics of the Smart Road Closure System
SOLAR CELL
12V battery supply, but the system can also be powered by solar panels.
EXTENSIBLE
The unit also includes a GPS clock, so that even several distant half-track lighting systems can be connected.
AUTOMATIC DIMMING
The LED displays are automatically dimmed to provide brighter light during the day and brighter light at night.
FALLING DETECTOR
In the case of equipment falling, the system automatically switches all sub-units to yellow flashing service mode.
Plastic double insulated luminaire with a diameter of 210. If required, the unit can be supplied with a "Combi" or even a 300-diameter luminaire.
Sintered housing, the battery box can be locked. If required, the surface can be treated with a different colour paint.
12V LED display (red, yellow, green).
Each LED display has an individual current meter with electronics, in case of malfunction the system automatically switches all sub-units to yellow flashing service mode.
The control panel is equipped with a door opening sensor which also switches off the LCD lights.
The control panel is equipped with modern, large buttons with a backlighted LCD display.
Serial programming facility
Technical parameters:
Power supply: battery DC 12V, possibly solar powered
Battery operating time: 5-10 days
Communication frequency: 2.4 GHz
Remote communication: LoRaWAN, NB-IoT, GSM
Programming, configuration: serial port
Contact Us

SmartRoadSystem Ltd.
H-4024 Debrecen,
Zöldfa str 12. 1.st floor 1.
Phone:
+36 52 597-500
E-mail:
informacio(kukac)smartroad.hu